A Three-Step Journey to Increase Service Levels and Profitability with Tank Dispatch Technology
By Carolina Ruiz • Published November 16, 2021 • 6 minute read
Tank Dispatch Technology – Journey to Increase Service Levels and Profitability
Petroleum and chemical distributors use different methods for dispatching trucks and drivers. Some do it with a heavy dose of phone calls and paperwork. Others use technology to automate a portion of the daily routine. Some have gone fully digital by taking advantage of the latest offerings.
Starting points on the digital journey are diverse, but the paths that lead to a fully digital solution for tank dispatch converge after companies take the first step to get away from analog systems. One more step is all it takes to reach a higher level of service and profitability.
Step 1: Experience the pain of using paper-based systems
This step requires no effort for distributors, especially those who deliver petroleum products. It's a natural habitat of those who rely on paperwork as a result of lacking visibility of customer tank data. Without visibility, dispatchers spend a good portion of their day making phone calls to obtain readings.
Dispatchers also may rely on paper documents such as bills of ladings and delivery tickets to get delivery information. This causes a delay and makes it difficult to forecast orders and plan deliveries to prevent run-outs.
Using paper-based dispatch systems also creates billing challenges. Differences will appear in the number of gallons ordered versus the number delivered. Without a digital system, reconciling the differences may require manual reviews of handwritten notes from drives and delivery tickets. This alone could be motivated to take the next step and invest in technology.
Step 2: Automate tank monitoring
Connecting to customers' tank meters or installing wireless tank monitoring systems is the first step company should take to free themselves of an analog dispatch process. The technology will eliminate the need to call customers or manually stick tanks to obtain data.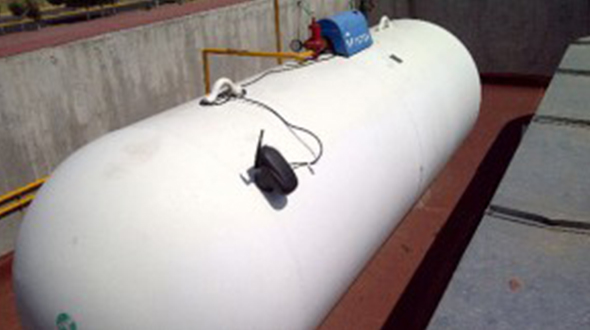 The technology also simplifies and automates the ordering process as well as removes the guesswork. Tank monitoring systems provide real-time, accurate data on tank fill levels and historical inventory usage. With this data, distributors can automatically forecast orders and plan deliveries as soon as tank levels reach established re-order points.
As part of the dispatch process, distributors can verify that the number of gallons that customers ordered does not exceed the maximum tank fill levels. This checkpoint will not only help to prevent spills but will also prevent "product retains," where customers pay for more gallons than they receive.
Step 3: Unify tank monitoring and dispatch
Once the ordering and forecasting process has progressed with tank monitoring technology, distributors can begin planning more efficient delivery routes. Analyzing delivery data can predict future demand and other variables, such as the travel time to locations and the number of times drivers spend on site.
Route planning improves when companies use dispatch software that gets order data from tank monitoring systems and optimally matches demand with available resources.
By combining real-time tank visibility with planning and dispatching tools, dispatchers can significantly improve profitability by saving time, reducing errors, and maximizing delivery volume for every route.
Bringing it together in a single platform
SkyBitz, a turnkey digital solution, SmartTank Dispatch, for distributors to streamline the process of generating orders, dispatching assets, and billing customers.
The SmartTank platform can automatically capture tank level readings directly from third-party tank monitoring systems or from independent SmartTank devices. Accurate, real-time visibility of tank inventory and historical usage data flows into the SmartTank Dispatch platform to automatically generate orders.
The SmartTank Dispatch platform adds comprehensive planning and dispatching to maximize route density in terms of gallons delivered per stop. With a few clicks, users can synchronize demand with trucks, drivers, and shifts to create optimal route plans. Dispatchers can print routes or send them directly to the assigned drivers using a mobile dispatch application.
When deliveries are complete, SmartTank Dispatch uses real-time tank readings to reconcile orders by matching tank fill levels with the number of gallons ordered and delivered.
Tank Webinar Videos Held Recently: